Menu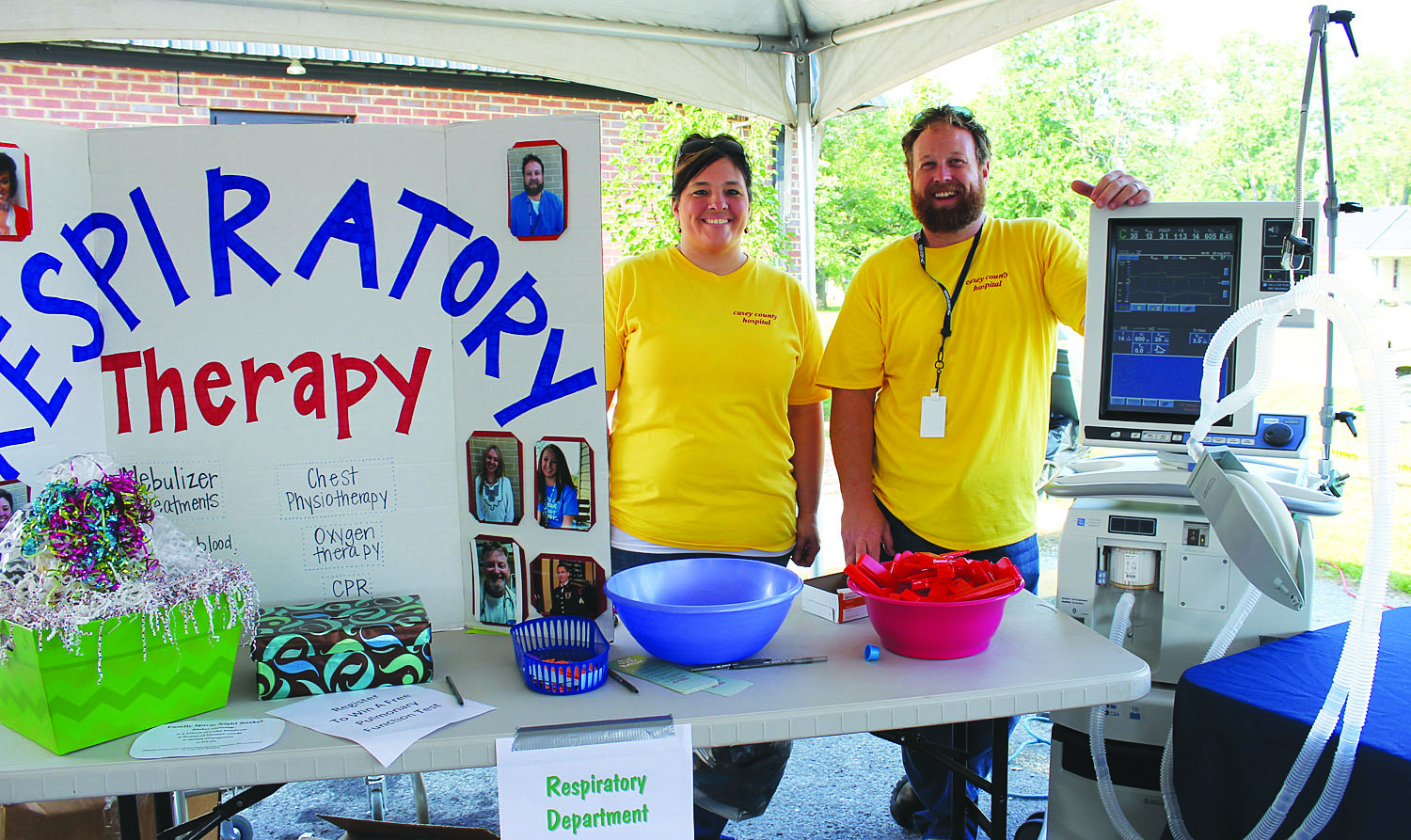 Casey County Hospital Health Fair
The 2016 Casey County Hospital Health Fair was held on Saturday, Aug. 20 from 7-11 a.m. in front of Casey County Primary Care.
On site were health-related vendors from several local and area agencies, who distributed information about their services. The hospital itself also had several booths representing the various departments and services available.
Casey County Hospital Auxiliary provided food and drinks for purchase, and also hosted a Silent Auction where visitors were able to bid on anything from gift certificates donated by various businesses to huge, gift-filled themed baskets.
The biggest draw of the Casey County Health Fair, however, was the blood draw, where more than $300 worth of tests are available for only $15. (Men who wish to have the PSA screening can add $10 for a total of $25.)
The blood draw began on Monday, Aug. 15 for those whose last names begin with A-F, which saw 262 people come through. On Tuesday, Aug. 16, last names G-M, saw 270; Wednesday, Aug. 17, last names N-S drew 260; and Thursday, Aug. 18, last names T-Z brought in 231. On Friday, hospital employees and family members who wished to participate added another 83 to the total. On the morning of the Health Fair, another 414 came through, for a total of 1,520 who were served, an increase of 42 over last year's Health Fair.
Those who had had their blood drawn Monday through Thursday were able to pick up their results on site the morning of the Health Fair and also speak with a health care provider if they had questions regarding their results. Those whose blood was drawn that day had their results mailed to them. 
Statistic from the 2016 Health Fair included:
- 901 females (59.2%) and 619 males (40.8%).
- 70 (5%) of the participants had no abnormalities on their report; of those, 22 males had a perfect report (the oldest was 84), and 48 females had a perfect report (the oldest was 87).
- 637 participants (41.9%) had high glucose levels, which is the test with the highest number of abnormalities. The highest reported was 449 mg/dl.
- 528 participants (34.7%) had cholesterol levels greater that the reference range of 199 mg/dl. The highest total cholesterol reported was 414 mg/dl.
- 59 (4%) had triglycerides greater than 300 mg/dl. The highest reported was 1390 mg/dl.
- 484 males (78%) had the PSA screening with 28 (6%) elevated.
- 209 participants (14%) had an elevated TSH (Thyroid Stimulating Hormone); 38 (3%) had a low TSH.
- 10 participants had a hemoglobin of less than 10.0 g/dl, including two who were less than 7.0 g/dl. (One of these patients received a blood transfusion at our facility.)
- 1 participant had extremely elevated kidney functions tests, which could be indicative of kidney failure. This patients was directed to the ER by his physician and was later transferred to another facility.
- Several participants had elevated white blood counts (WBC), with the highest at 66,300. However, this patient had a known leukemia.
The hospital conducted a blood draw on Nov. 7, 2016 for Casey County School District personnel, where 53 participants took advantage of the service. This number was added to the total for the Health Fair blood draw, for a grand total of 1,573.